View iSteve's Homepage

Read iSteve's Bio

Contact iSteve
You must sign into your myHangout account in order to contact iSteve.
thoughtsalongtheway2.blogspot.
com/
Playing Since: 2011

Experience Level: Just Startin'

Interests:
[Jamming] [Socializing]

Occupation: United Methodist Pastor

Gender: Male

Age: 57

My Instruments:


Fiddle, Banjo, Clarinet and Tenor Saxophone.



Favorite Bands/Musicians:


Vassar Clements, Charlie Daniels, Alison Krauss, Roy Acuff, the Carter Family, the Dixie Chicks, John McCutcheon and too many others to name.



Classified Rating: (0)
Rate this Member

Profile Info:
Visible to: Public
Created 2/27/2012
Last Visit 3/30/2012

Thursday, March 1, 2012 @11:33:00 AM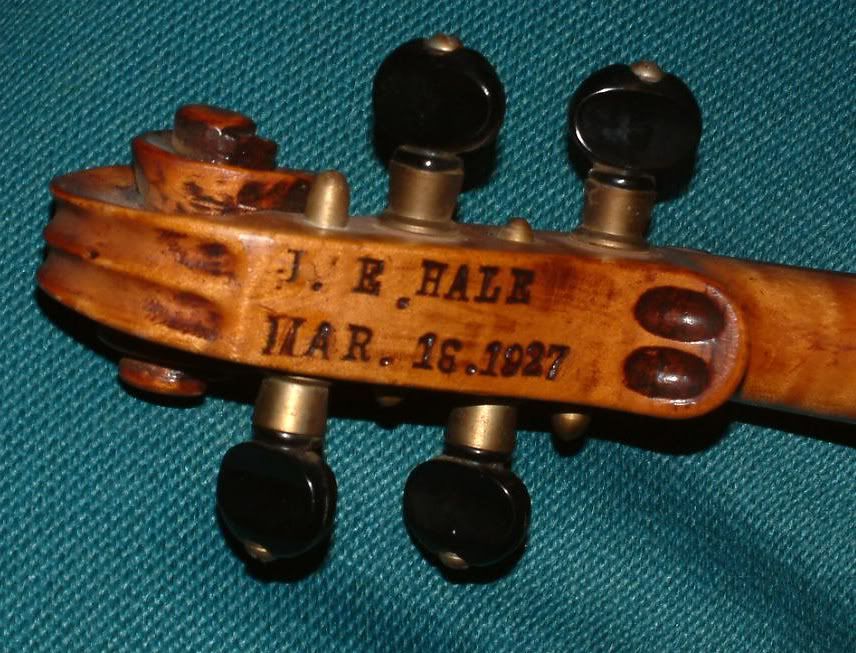 I wanted to share a couple of pictures of my fiddle that was made by my grandfather, John E. Hale. It was completed on March 16, 1927 - two years before my mother was born, and twenty-six years after he lost his right arm in a saw mill accident.
It's a beautiful instument. I don't know what wood it is made of. I hope to find out. Everything is original to the fiddle, except for the strings.
The original bow and case have been lost. I have ordered a new bow to start playing on, but I hope to get a more professional one later.
There are more pictures of this fiddle on my homepage. I hope you will take a moment and look at them.
Peace,
Steve
Recent Forum Posts
No recent topics available.

Groups
Beginning and Novice Fiddlers
Richmond VA Area Fiddlers
Bowing
Tofu-Brained New Time Ramblers

Friends
iSteve has 17 friends. View entire friends list.

Music (0 files)
Newest Photos